Training for a 1.5 Mile Run -
How to Qualify for Your Test
Let me guess... you are looking into training for a 1.5 mile run.
Because, in the not too distant future you have a test on your hands...
Maybe it is a
police physical test
. Maybe it is an
army test
. Or for another profession that requires you to have endurance and speed aplenty!
I am not going to waste your time, so let's get right into it. On this page you will get an overview of why the 1.5 mile run / 2.4km is so challenging and then we'll get into the things you need to do in your training to
hit your goal
.
The 1.5 Mile Run Test - Why is it So Challenging?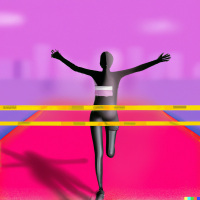 So, why is the 1.5 mile run the preferred police fitness test or army physical test for so many armies and police departments around the world?
Well, 1.5 miles is long enough to
really test your aerobic fitness levels
. You need to have a
solid endurance base
to be able to run quickly for 1.5 miles. At the same time, the test requirement is difficult enough that you can't just jog the distance and be done with it. You need to develop
some speed in your legs
as well.
That combination of needing both endurance and speed makes it a tricky test to pass, especially if you come from a base of low fitness.
So, what do we need to do to remedy this?
Training for a 1.5 Mile Run Step 1 - Build Your Aerobic Base
Now, the first thing you should do when training for a 1.5 mile run is to start developing your aerobic base. You will want to do plenty of easy runs. An easy run is a run at a jogging pace at which you'd still be able to have a conversation with a running partner.
What we want to do with these easy runs is to get well, well beyond the 1.5 mile distance. Suppose you would be able to run 6 miles or 8 miles? Imagine how much easier that 1.5 mile test suddenly becomes?
So, first you need to build that capacity to run for a longer period. How often and how long? A lot depends on your starting point. I like to see runners go out for at least three times per week, but depending on timelines till your test and how much your fitness needs to improve a more aggressive approach might be required.
Also check out
the Base Running page
to learn more about building your aerobic base.
Currently having trouble even covering 1.5 miles? Then you should check out the
Beginner Running Program
pages for ideas on how to build your base using a run/walk approach.
Training for a 1.5 Mile Run Step 2 - Build Your Leg Speed
As you are building your base and doing plenty of easy, slow running you would be wise to try and build / maintain your leg speed as well by doing
strides
at the end of your run.
What are strides?
Strides last about 20-25 seconds. You start off slowly, focusing on turning over your legs lightly and quickly. You build up your speed and for a short little while (3-5 seconds) you run at close to maximum speed, after which you drop off the speed and come to a stand still or a slow jog.
You then walk or jog for a good 90 seconds or so, and then you do another stride.
Starting off, you'd maybe do 3-4 strides and you can build this up to 6 to 8 when you get more experienced with them.
Especially when you are doing lots of slow jogging, strides are pretty important. When you do lots of slow running, your legs lose the experience of what it is like to run fast. Doing a bunch of strides at the end of an easy run is enough to "help them remember", so to say.
For more information about running strides, check out
this page
.
Training for a 1.5 Mile Run Step 3 - Add Faster Workouts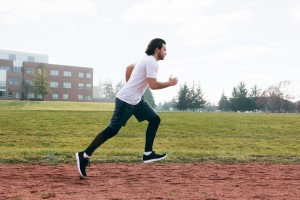 Once you have a solid base, you can then add speed to the mix. We don't need to go into all the specifics of why you run at each speed in this article. There are plenty of
running training
pages on this website you can work through to learn more, if you are interested! For now, just remember that
every running speed has a specific purpose
.
Key types of workouts that are important in training for a 1.5 mile run are:
Tempo running
- This is the pace which you would be able to run at for about an hour. It is a strong, steady pace, but
still slower
than what you need to run in your 1.5 mile run test.
Interval running
- This is a much faster pace, which you can only really maintain for about five minutes at a time. You run this pace in intervals (e.g. 400m repeats) and that pace is
faster
than your 1.5 mile run test.
Goal pace running
- This is the pace of your 1.5 mile run test. Suppose you need to run 1.5 miles in 13 minutes. That translates into 2 minutes and 10 seconds per 400m (= lap of the athletics track). A decent workout to do is to try and run 6 x 400m in 2 minutes and 10 seconds with 90 seconds rest in between. Then slowly build your way up in distance per goal pace interval and reduce the time in recovery to get closer and closer to mimicking your 1.5 mile run test.
You can find more information about the different types of workouts on the
Running Workouts
page.
Training for a 1.5 Mile Run - Putting it All Together
I can imagine this is all a bit overwhelming.
And it is not always straightforward on how to put all the pieces together, especially if you have a very limited time until you have this police physical test / army fitness test.
Well, especially for you I have developed the free
7 Days to Pass Your 1.5 Mile Test eCourse
.
It provides a bit more detail on all of this, and gets delivered straight into your inbox.
I highly recommend you give it a try!
Simply scroll down a bit further and subscribe straight away!
And to help you even further, if you subscribe to this series, you get my guide
"Top 10 Runs to Supercharge Your 1.5 Mile Run Test Training"
for free as well.
Additionally, I have answered a load of questions on the 1.5 mile run test. You can see links to all that Q&A further down the page.
Whether you want to get that additional support or not, I wish you all the best with your training for the 1.5 mile run! I hope these running tips helped you get an idea of the type of training needed. And I hope you succeed in your 1.5 mile run test.
All the best!
Supercharge your 1.5 mile training! Simply subscribe to "7 Days to Pass Your 1.5 Mile Run Test" and get this e-book for free, before I change my mind...!!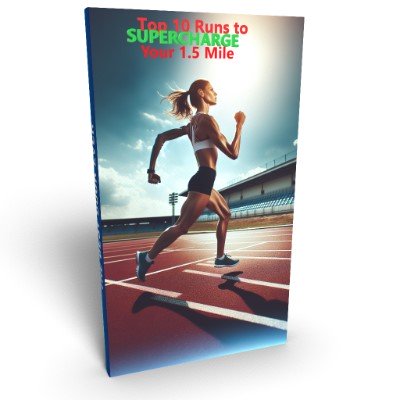 1.5 Mile Test Pages You
Need to Check Out
What Other Visitors Have Asked
Click below to see questions from other visitors to this page...