Is 20 to 30 Training Miles Enough to Run a Half Marathon
by Terese
(Ogden, Utah. USA)
I have been a commited runner for a year and a half now and have completed two half marathons with over a dozen 10k races! With the snow and winter cold I have been averaging 20 to 30 miles per week and have signed up for a half marathon in three weeks in California!

Do you think my weekly average right now will be enouph to get me through the half marathon well? I am pretty confident I will do ok but not sure that I am putting in enouph miles per week like I normally do in the warm weather months!

During the summer I average 50 miles a week!!!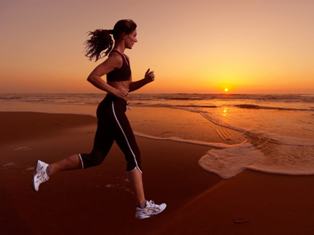 Answer by Dominique:
Hi there,
Thanks for your half marathon running question.
Looks like you have been busy over the last year and a half.
In short,
yes, you should be able to do a half marathon on 20 to 30 miles per week
. Probably depends a little bit on how your training week is built up though.
E.g. if you are doing 20 miles, there is quite a big difference between doing 5 x 4 miles or 1 x 10 + 2 x 5. Both add up to 20 miles, but I'd be more confident that the person doing the 10 miles long run will do better.
With your year and a half of
hopefully pretty consistent running
behind you, you should be able to pull it off and finish it.
The biggest issue is that you could start the race being
too positive about your abilities
.
Believe me, I have been there, done that.
Started a race, knowing my training was a bit (or a lot) underdone.
Felt good the first few miles and started thinking I was Superman.
Only to then come
crashing down in the second half of the race
, often making for terrible, terrible race experiences. When your legs are heavy at the 6 mile mark, it's a very long way to get to 13.1!
So, I'd strongly suggest to do a time trial this weekend. Run a 10k as if it were a race and see what time you get. Then enter that time into the calculator on the following page:
Race Conversion Calculator - The Running Calculator You Need to Really Understand Your Running Abilities
It should give you a reasonable gauge of what time you'd be likely to achieve in your half marathon.
Read the "small print" after the calculator as well though, it is not a 100% guaranteed satisfaction tool, so to say.
Shorter race performances can sometimes overestimate your abilities for the longer races.
Others use the following calculation:
1) Take your 10k time
2) Multiply by 2 and add 10 minutes
This should get reasonably close if your 10k time is in the 35-50 minutes timeframe. Longer than that? Then you might find you'll have to add 15-20 minutes to get to a reasonable estimate of your half marathon time.
Hope this helps.
Best of luck with the half marathon prep.
Oh, also check out the the following page about half marathon training. It may give you a few more tips:
Training for a Half Marathon - 8 Running Tips That Will Help You Set Up the Best Half Marathon Training Schedule
Cheers,
Dominique
Join in and write your own page! It's easy to do. How? Simply click here to return to Half Marathon Questions.