Running the 1.5 mile in Under 10:35
I need to run the 1.5 mile in under 10:35 in about five weeks in order to qualify for a job.

I am in good physical condition and have been working on my cardio at the gym but have not been running (shin splints I recently treated with physical therapy).

How should I begin my running routine and how do I beat that time?

Answer by Dom:

Hi there,
Thanks for your questions about beginning a running routine and getting to 1.5 mile in 10:35 minutes.

You do not have a lot of time. Five weeks is better than nothing, but in terms of improving your time, there is only so much that can happen in five weeks.

Let's walk through this in a few steps:

1) How to Start Running Again
2) What Else to Do Besides Running
3) Getting Ready for 1.5 Mile in 10:35 Minutes


How to Start Running Again
So, first, picking up a running routine. The key is to start off easy. The worst mistake you can make is to start with intervals / high intensity work.
Every long-distance runner (and let's call everything that's more than 800m long distance), should do easy running, first and foremost.
That is the pace at which you would be able to hold a conversation, a jog. Depending on your fitness, you start off with easy runs of 10-30 minutes. Is that too much? Then start by doing run/walks. E.g. 10 x 2 minutes of running at easy pace with 1 or 2 minute walks in between.
Build up from there. Even though 1.5 miles is only 6 laps of the track, it does require you to have a strong aerobic base, especially if you need to run it reasonably fast.
The trouble with the 1.5 mile distance is that it seems so short ("only six laps"), but if you don't have a good aerobic base and you run out of energy midway through, it will feel like a lifetime!!!
For your goal, being able to run 30 minutes non-stop is a start, ideally, you are able to run further than that. 60 minutes is a good time to aim for with anything over that a bonus.
Aim to run 3-4 x per week.
What Else to Do Besides Running
Now, I am assuming the shin splints have healed. But if there is any sign of them coming back, then ease off the running. It's no good getting to your test carrying an injury. Running six laps with shin splints is not my idea of fun.
Compensate by doing other cardio work, as you have been doing already. Bike riding, rowing, elliptical are all good choices as cardio alternatives to running.
Getting Ready for 1.5 Mile in 10:35 Minutes
As I said before, most of your running should be easy pace. However, a good running program also includes some faster running. You only have five weeks. Ideally, we would be able to build up for longer and do some
tempo running
and then some
intervals
and
goal pace running
.
In general, it is good to run at paces slightly faster and slightly slower than your goal pace, as well as at your goal pace.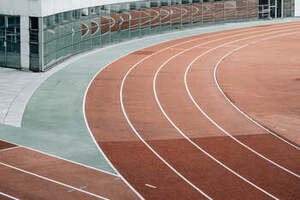 Get to the track for goal pace workouts
Given the time available, I think your best bet is to focus on just goal pace running.
For one workout in the week, go to the track and do some goal pace workouts. Assuming you have great fitness and just lack the running experience (and the shin splints are no problem), you could start with 6 x 400m (1 lap) with 2 minutes break in between the laps.
You want each lap to be 105 or 106 seconds.
Then build up from there, e.g. 3 x 800m, 2 x 1,200m etc.
The key thing you want to develop here is to get used to that pace, so you can tune into it on the day of your race.
Hope that helps. Hope the body stays in one piece and best of luck!
Kind regards,
Dom
Pages that help with all of the above:
Building Your Running Base
Goal Pace Workouts
Interval Running
Supercharge your 1.5 mile training! Simply subscribe to "7 Days to Pass Your 1.5 Mile Run Test" and get this e-book for free, before I change my mind...!!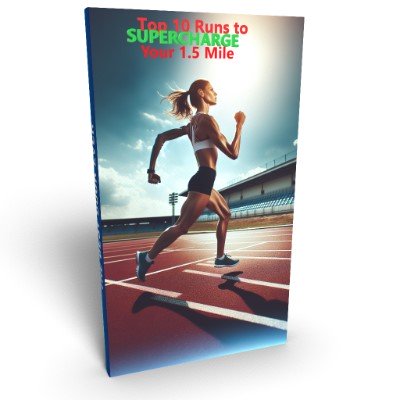 1.5 Mile Test Pages You
Need to Check Out