1.5 Mile in 13 Minutes, but Out of Shape
My husband is in a lot of trouble. He's slightly out of shape and has gained a few pounds. He had an injury that put him on a profile for a year.

He wasn't able to exercise or train. Now he has a test he must pass in three weeks. What is the best way to get him in shape to run 1.5 miles in less than 13 minutes?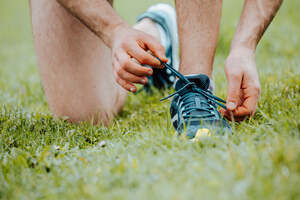 You'd better lace up buddy.
There is a lot of work to do for you...

Answer by Dom:
Hi,
Thanks for your running question.
That is quite a situation.
The easy way out for me would be to say "not possible" and leave you to it. But, not knowing exactly how fit your husband is and what his natural abilities are, it may well be possible and I do want to help...
Three weeks is not a lot of time...
1.5 Miles in 13 minutes is normally a totally doable goal
, but the time lacks for the ideal preparation.
The problem we have is that your husband would best get in shape by doing lots of exercise of course, but this puts him at risk of injury.
A very dedicated approach is necessary... I would advocate for:
1) Exercise Often
2) Live like a Saint
3) First Run Slow, Then Run Fast
4) Maybe a Time Trial
5) Think about Race Day Strategy
Let's break this down a bit further.
Exercise Often
I am not sure how much running he can do at the moment. Ideally he would run 3-4x per week. That would provide great fitness benefits. And even though time is short, he would start to see some results early on, especially when out of shape.
However, running that much might not be an option. He should make use of any way to do exercise, not just running. Bike, rowing, elliptical, walking, any type of cardio would be helpful.
See
Cross Training for Runners
for more info.
Live like a Saint
He needs to take dietary sacrifices to see to it that he loses some weight, i.e. no alcohol, no sweets, no sugary snacks etc.
No fun basically, any pound lighter will help make him somewhat faster.
First Run Slow, Then Run Fast
As far as the running is concerned, as I said before, he needs to do as much running as is possible, e.g. 30 minutes a day four days a week.
Even if this means taking a few walking breaks in between or running slowly, but spending that time running is important.
E.g. a session could be 10 x 3 minutes or 5 x 6 minutes of running with 2-3 minutes walking in between. By the end of the three weeks, he needs to work towards a longer period of running consecutively (e.g. 20 minutes of running, short walking break, 5 minutes of running, short walking break, last 5 minutes of running).
He needs to be wary though of injuries and if there are any issues with ankles, knees etc then he should be careful and not injure himself.
It is still better to be half-trained than to be injured and not be able to have a shot at the test at all. In case of any injury concerns he should do other cardio activity.
Check out the following pages for more info:
Base Building
Introductory page to the Beginners Running Programs (run/walk programs)
Maybe a Time Trial
Doing a time trial over 1.5 miles could be a good idea but may be a double-edged sword.
It is a good idea to practice the test so he knows the distance and knows where he stands. But if the time trial does not go as planned it may be demotivating and put him off exercise for the rest of the time.
Additionally, a time trial would be a "hard effort" and given the shin splints situation, could possibly aggravate the injury.
Check out the
Goal Pace
page for more information about goal pace workouts.
Race Day Strategy
The day before the test is best spent not doing exercise at all to make sure he gets to the start well-rested.
As a "race-strategy" it is normally best to run an even race, i.e. if he needs to run 0.25 mile circles around the track, then he should aim for 2.10 minute splits. This sound simple, but it is very important.
If you do not have a lot of stamina, then starting off way too fast in your first lap or two can have devastating effects on the results of the last three.
I sincerely hope this helps. Wishing you and your husband lots of success in the upcoming weeks. It would be great if you'd let us know whether he made it through or not!
Lastly, I offer an e-mail series
7 Days to Pass Your 1.5 Mile Test eCourse.
It is worth subscribing too to get a lot more of my thinking on how to prepare for the 1.5 mile test. See below for further detail.
Kind regards,
Dominique
Supercharge your 1.5 mile training! Simply subscribe to "7 Days to Pass Your 1.5 Mile Run Test" and get this e-book for free, before I change my mind...!!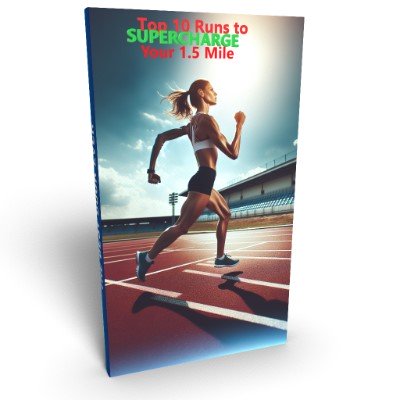 1.5 Mile Test Pages You
Need to Check Out