What Can I Do To Improve My Half Marathon Time?
by Edward
(Florence, KY)
I am a 53 yo male 5'11, 165lbs. I have been running for about 8 years. I have run 7 marathons and have never broken the 4hr mark even though all my training is to that goal.


This past summer I focused more on tempo than distance. I averaged about 25 miles per week. Running three days per week with swimming as my cross-training. My running distances were roughly 5 miles, 5 miles and 15 miles. The second 5 miler was a tempo workout (speed).
My goal was to PR in a half marathon this fall with a 1:43 time or better.
I wore a heart-rate monitor for most of my training and races. This was more to just monitor the changes in HR rather than to use it for pacing speed.
In any case I ran two very fast half marathon courses and was unable to get close to my goal pace. Both races ended up in the 1:47 range.
In the first race I started out at my goal pace and was not able to maintain it for more than 6 miles. I found that after the first 6 miles if I took a 30 second walk break to get my breath back, I was able to run my goal pace for the rest of the next mile. I did this for the remainder of the race and came in at about 1:47:30.
The next race I was determined not to take any walk breaks. Unfortunately, after about eight miles I found myself completely out of breath at times and had to slow my pace in order to keep running. I ended up finishing that race at 1:47:50.
My legs felt fine in both races. It was simply that I was out of breath at times.
The heart rate monitor indicated that I was close to 90% of my estimated max HR almost the entire race. For both races.
My question is what can I do to improve my half marathon time?
I have always hated hill workouts but have heard that it may be possible to improve VO2Max by doing them.
The other question is, do you think that I have simply reached my maximum potential and cannot get any faster?
Any advice would be greatly appreciated.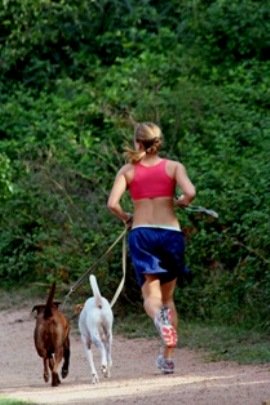 Answer by Dom:
Hi Edward,
Thanks for your question about half marathon running.
And thanks for providing the background.
It gives me a very good idea of what you have been doing.
And don't worry, I hate hill workouts too, so I am not necessarily going to tell you to go to them... :)
Yes, they can be a good way to train your VO2Max, but I am not sure if that should be the focus point of your training.
First of all, I think
your mileage is a bit low.
It is possible to run a half marathon with only three workouts. But it sounds like you have hit a bit of a plateau and therefore it would be good if you could push it up with one extra running day.
Doesn't have to be a hard day, 4-6 miles would be great.
Second of all,
everybody can go into a half marathon, knowing really well what their goal time should be, based on what they can do.
I'll give you a few indications below to work that out.
Going into a half that way should make it a lot more enjoyable as you won't have to adjust race plans in the middle of the race.
Your long run is of a good length, does not need to be that long all the time. I am not sure what speed you currently use for your long run.
I find that it helps if you run at different speeds, e.g. run it slower, but longer one week, then next week run a faster, but shorter long run, e.g. 15-20k (9-12 miles) at 12-15 seconds / km slower than half marathon pace.
If you can nail that 12-miler, then that is a really good sign that you are ready for your half marathon.
Something I am curious about is your
tempo run
. It sounds like a steady workout. If that is the case, I would shake it up a little and suggest the following:
Do 6 x 1 mile with 2 min break in between one week, then move to 4 x 1.5 mile, 3 x 2 miles, 2 x 3 miles (increasing the breaks in between) in the following weeks.
When you have gone through one of those cycles, go back to doing 6 x 1 mile the next week, but now a few seconds faster.
Then go through the cycle again. Rinse and repeat. Every 4-5 weeks, your tempo speed can normally be slightly increased.
Now, the second indication of how fast your half marathon will be is
that your tempo run should be about 10-15 seconds/k faster than half marathon pace.
Your half marathon goal pace is 4.52/km. So, when your tempo pace is about 4.35-4.40/k and your "fast long run pace" is about 5.04-5.07/k then you should have a good chance to hit that 1:43 goal.
Let's not even get into the discussion of whether you are too old to hit your goal time or not.
Just give it all you got using the above guidelines and I'd be curious to hear what you'll do in your next half marathon!
Kind regards,
Dom
Join in and write your own page! It's easy to do. How? Simply click here to return to Half Marathon Questions.