Trying to Run Half Marathon in Under 1.30
by Eliot
(England)
Hi, I am 18 year old and I've entered for my local half marathon, which is in 2 months. My goal is to bring my race time to below 1 hour 30 mins. At the moment, I have been training about 5 days a week, my average running length being around 3-4 miles, with 6-8 mile distances now and then.


I can do 2 miles in 12 minutes, 3.1 miles in 21 minutes and 6 miles in 43 minutes.
I feel that I should be able to run much faster than these times, as I also spend a lot of time cycling and doing other sports.
Any advice you can give would be great, thanks.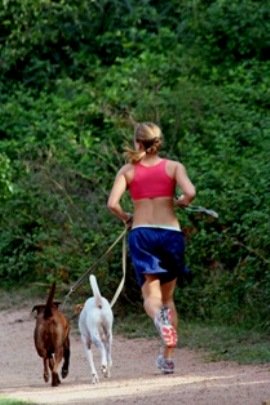 Answer by Dom:
Hi there,
Thanks for your question about your local half marathon.
I think your half marathon goal of 1.30 is beyond reach at this point in time.
In two months time you can make some improvement, but not the type of improvement you need.
You should plug in your results in the
Race Conversion Calculator
.
Using your 6 mile time of 43 minutes I get an expected outcome for your 13.1 miles of 1 hr 38 min. And if you'd run your half today I doubt you'd achieve the 1 hr 38 min.
The reason?
Your
running base
is not developed well enough yet.
How can I see that?
In short, the expectation of your half marathon time gets slower, the longer the distance I enter in the calculator. Based on your 2 mile time, you'd run 1.27, based on your 3.1 mile time you'd run 1.36 and based on your 6 mile time you'd run 1.38.
The cure?
You need a lot more long distance runs under your belt. In order to
race
a half marathon, not "just run" it, your long runs need to be longer and at least some of your short runs should be longer as well, i.e. think 13-15 mile long runs and regular 6-8 mile short runs.
Secondly, you need some variety in your training. Most of your running should be easy/long runs, but in addition to that I'd advise some
tempo runs
.
When you are a bit further advanced you could also do speed workouts like
interval running
, but at this stage you'd get most benefit out of easy/long runs and tempo runs.
When increasing mileage, make sure you do it the right way. Check out my
increasing mileage safely
page for more information.
Hope this helps.
Best of luck in your upcoming half marathon!
Kind regards,
Dom
Join in and write your own page! It's easy to do. How? Simply click here to return to Half Marathon Questions.