What is The Best Way to Train for a Beginning Runner?
by Nick
(Ohio)

I have been running for a little over a month. I seem to be in pretty good shape for a recovering smoker.

I started out at 2 miles per run a couple times a week for the first 2 weeks or so.

I stepped up to 3 miles per run again a couple times a week for the second 2 weeks and this past Sunday did 4 miles with a friend.

In each case I was able to run the entire time and keep my times right around a 10 10-1/2 minute mile.

The 4 miles we did in something like 42 minutes.

We have signed up for what I thought was a 5k on Thanksgiving.

As it turns out its a 5 mile race and I am not sure if I can complete it.

I was just wondering if I should be running hills or doing cross training or sprint training of some kind?

I have been active most of my life from playing sports to working construction. I am 31 years old and as I said quit smoking 7 months ago.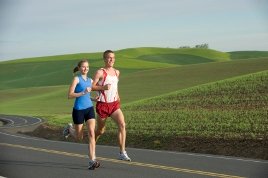 Answer by Dominique:
Hi there,
Thanks for your question about your upcoming 5 mile race.

Good to see you have started running. And you seem to be doing pretty well.

You can already do four miles, so a five mile race should not be too much of an issue (in terms of finishing it).

I am a big fan of slow beginnings. I'd advise you to read the base running page.

When you are new to running, I think it is better to start off with building a proper base. That means lots of runs that are at "easy pace".

Doing speed work or hills now would give you a bigger chance of injuries. It is simply a lot tougher on the body.

Driven by the CrossFit craze there is a lot of focus on high intensity interval training (HIIT) at the moment. And it is true, you can improve strength and endurance by doing intervals, early on.

Many argue HIIT is the best way to train. I think it can lead to sub-optimal results over the longer term, because HIIT is putting a lot of stress on you when you are not ready for it yet.

When you want some variation you could do a fartlek session each week or do some tempo running.

Hope this helps.
Best of luck.
Kind regards,
Dominique