Beginners Running Program
1
15 Minutes in 8 Weeks
This beginners running program is safe, but delivers results.
You'll get from couch to 15 minutes of solid running in only 8 weeks!
And after that you will want more. I promise you that!
This beginner running program starts very gently. Too easy for some. Hard for others.
It is hard to please everyone with one running program!
Feel that the start is too easy? Then just start at a later week, e.g. why not hop into the schedule at week 4 or so?
Or follow the links down the page to other running programs that might suit you better.
However, I very purposely created the beginner running programs on this site with somebody in mind that is
very, very new to running
. You come from a low base of fitness and now you want a safe way to get introduced to running. Then this program, or one of the other programs on this site will suit you very well...!
And don't for a moment believe that you are not able to do this! You can absolutely do this. Many have gone before you.
Landed on this page via a search engine (Google, Yahoo, etc.) or link on the internet?
Then make sure you check out the following pages before embarking on this program: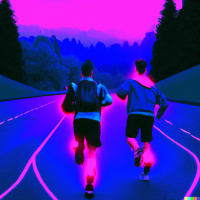 Introduction to the beginners running programs including the

Running Programs FAQ

- This page provides all the guidance you need on how fast to run, how fast to walk, how to read the schedule, etc., etc.
The Most Important Beginner Running Tips - quite a read, but it covers the essentials when you are starting out.


Most of starting your running career should be reasonably straightforward, but if you have any questions at all, make sure you check out the above pages first. A lot of your questions have already been answered.

Just for completeness I will also just give you the most important instructions here:


The walking in this program should be a brisk walk
The running should be slow. A gentle jog is all I am asking from you. Slow enough so you would still be able to talk somebody running with you
Follow the program in the sequence it has been laid out. Things get progressively harder, but never undoable.
Having some difficulties at some stage? E.g. you can run 6 minutes non-stop, but 7 is too hard? Repeat a week or build up more slowly (e.g. try running 6 minutes and 30 seconds, rather than 7. Then try 7 the next time).
I hope you enjoy this or one of the other beginner running programs.
Here are Some Other
Running Programs
Beginners Running Program 1
Run 15 minutes in 8 weeks
WK

DAY 1

DAY 2

DAY 3

TOTALS

1

6 min walk

6 min walk,
1 min run

8 min walk,
1 min run

Exercise
Time

6

7

9

22

Time
Running

0

1

1

2

2

2 x
4 min walk,
1 min run

1 x
8 min walk,
2 min run

2 x
5 min walk,
2 min run

Exercise
Time

10

10

14

34

Time
Running

2

2

4

8

3

1 x
7 min walk,
3 min run

2 x
4 min walk,
2 min run

1 x
3 min walk,
3 min run
1 x
5 min walk,
2 min run

Exercise
Time

10

12

13

35

Time
Running

3

4

5

12

4

2 x
3 min walk,
3 min run

1 x
4 min walk,
3 min run
1 x
5 min walk
2 min run

1 x
3 min walk,
3 min run
1 x
4 min walk
4 min run

Exercise
Time

12

14

14

40

Time
Running

6

5

7

18

5

2 x
3 min walk,
4 min run

2 x
4 min walk,
4 min run

1 x
4 min walk,
5 min run
1 x
4 min walk,
4 min run

Exercise
Time

14

16

17

47

Time
Running

8

8

9

25

6

2 x
3 min walk,
5 min run

2 x
2 min walk,
5 min run

2 x
2 min walk,
6 min run

Exercise
Time

16

14

16

46

Time
Running

10

10

12

32

7

2 x
2 min walk,
6 min run

1 x
1 min walk,
7 min run
1 x
2 min walk,
6 min run

2 x
1 min walk,
7 min run

Exercise
Time

16

16

16

48

Time
Running

12

13

14

39

8

1 x
1 min walk,
9 min run
1 x
1 min walk
6 min run

1 x
1 min walk,
12 min run
1 x
1 min walk,
3 min run

15 min run

Exercise
Time

17

17

15

49

Time
Running

15

15

15

45