Which Running Program to Do After One Year Absence from Running - But Still Fit?
Hi Love your site!
I broke my toe 1 year ago. It was a bone defect and very slow to heal, so I've not run more than sporadically over this past year.

However, I've done martial arts, elliptical machine, and I bike commute. I can easily bike for 2-3 hours, walk 5K in about 40 mins, etc, etc.

Recently I started back to running and can easily run 2 miles in 30 mins without being sore the next day.

I got bold and signed up for a 5K, planning to walk it, but ended up running almost the entire thing (2 small walk breaks for water), in 48 mins.


Due to the holidays and weather, I've only been able to run three times in the last three weeks (but put in 12 hours on the bike, though).
I feel like I should just jump in to the 10K program...is that the right program for me? I feel like I can do the time, but I've not been consistent since coming back to running. :(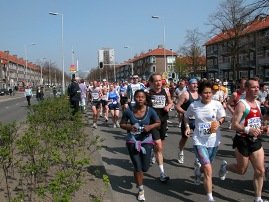 Answer by Dominique:
Hi there,
Thanks for your running training question and apologies for the delays in getting back to you.
The
10k Running Program
is good for anyone who can run 30 minutes non-stop comfortably.
It sounds like that is you and especially given your biking experience it should be fine to start with it, even though you have been absent from running.
The program does require a commitment of three days / week.
With any running program, consistency is just really, really important
. Skipping the occasional workout is not a huge issue, but in order to see some improvements
running at least three days / week every week, week after week, is key.
This 10k running program will build up your endurance over time such that at the end you should be ready for a 10k race.
After that program the real fun begins with my favorite distance, the half marathon... :)
See my
half marathon running program
for more details.
Hope this helps and again, apologies for the delays in getting back to you.
Cheers,
Dominique
Join in and write your own page! It's easy to do. How? Simply click here to return to Running Programs FAQ.