Water Retention after a Long Run
by Misty
(Saskatoon, Saskatchewan)
Does anyone else experience extreme water retention after a long run or a race? I have ran 7 half marathons in the past 3 years and I have noticed that I bloat up really badly after the race (gain 3-4 lbs of water).


I use gels, and electrolyte replacement drinks during the race and drink lots of water, it also does not matter if it is a cool or hot day, happens to me regardless of weather.
What could be causing this?
It doesn't happen to me on shorter runs; in fact I lose water and am lighter after a short run. I just ran a half on Sunday and today is Wednesday and I'm just finally getting back to normal.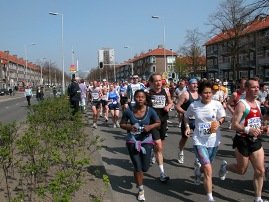 Answer by Anissa:
Thanks for your question regarding water retention after your long runs and races.
I personally understand how frustrating this is, many times after a long run I have come home feeling puffy and bloated as well.
After all of that hard work, it's discouraging to see the scale go up a few pounds rather than go down.
This type of weight gain is fairly common after long runs.
There are varying schools of thought on why this happens.
If your body is sweating too much and you have consumed too many sports drinks before or after exercising, it can lead to fluid retention.
Sports drinks contain a lot of sugar and sodium, which is where the fluid retention comes in. Fluid retention results in a
temporary weight gain
until your body is able to shed it.
The best defense against fluid retention is to consume more water; however this rule can't really be applied to long distance runs and races.
Your body needs that healthy balance of hydration and electrolytes during long runs to avoid more serious problems such as
over-hydration (hyponatremia)
from consuming too much water.
While the temporary weight gain you and many others experience after long runs or distance races is certainly annoying, take heart and know that it is just that: temporary.
Also consider that you may just be taking in too much. Experiment during your long runs with consuming less (a good gulp of water every 15 minutes is a good baseline).
Best wishes,
Anissa
Join in and write your own page! It's easy to do. How? Simply click here to return to Running Training FAQ.