Want to Run A Mile on My Treadmill
by Erin
(Pasadena)
I am 31, and reasonably fit (5'3", 125). I exercise 2-4 times/wk (ballet-based isometric toning Bar Method, Power core yoga, high-rep / low weight weight lifting. But--I hate running!


That said, I can run a mile in about 20 minutes on a 4-6% incline on my treadmill at home. I would like to cut that down to 15 minutes. I have no idea if this is a reasonable goal. I am trying to figure out, if it is, in fact, reasonable, how to do this.
Do I just up the speed? Or try to run longer distances?
My legs are not the problem, they feel quite sturdy, even at the end. It's my lungs & heart that that keep my stamina where it is.
Thank you!
Erin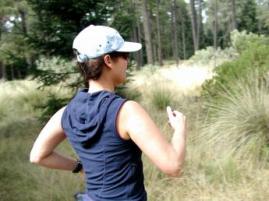 Answer by Dominique:
Hi Erin,
Thanks for your question about your treadmill running.
Running a mile in 15 minutes is a very reasonable goal.
Given the exercise you are already doing you should be able to achieve that.
First of all, is there a particular reason why the treadmill is set at a 4-6% incline?
I think it would be good, initially, to bring the incline down. Reason I am saying this is that hill running is quite strenuous.
And I'd like you to try to run a bit more than what you are currently doing. At the 4-6% incline this would increase the risk of injuries.
What I would suggest you do is bring down the incline to 0 - 1% and then practice some run/walking
. E.g. 5 min run, 2 min walk repeated 5 times. The running can be at an easy pace. It will probably be at about that 4 mile/hr speed (i.e. 15 minutes per mile) or even faster.
Then over the next few weeks,
build up the time spent running
, e.g. go to 6 min runs, 7 min runs, 8 min runs, etc.
Very much like the approach I take in the
Beginner Running Programs
on this site.
Because you are already pretty fit, before you know it
you could be running 30 minutes non-stop
, see
Beginners Running Program 3
. Of course I wouldn't suggest you start doing this program from week 1, but see if you could start somewhere at week 5-8 or so. Then you could work through the program and be at 30 minutes of non-stop running very soon.
At that point, with the additional fitness, covering your mile at 4-6% incline in 15 minutes should be, I expect, a breeze.
Hope this helps.
Kind regards,
Dominique
Join in and write your own page! It's easy to do. How? Simply click here to return to Beginner Running Tips Q&A.