Training Two Days per Week?
Hi, your training programs are awesome.
Yet the only time I have to run, are Sat and Sun morning. I am a total beginner. I go to a trail 4.5 miles, each way, total 9 miles.

I walk mostly and run for a minute or two in between a few times.


Since your plans are great, yet not for me, could you simplify what I need to do for each day within the 9 miles?
I am usually out of breath after my 2 minutes.
I want to increase my running time.
I am at the moment 220 lbs, 6'1" tall.
Thanks,
Eddie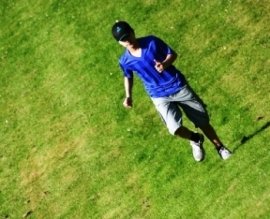 Answer by Dominique:
Hi there,
Thanks for your running training question.
Your run/walk approach is fine. The key to improvement is taking it one step at a time.
You are currently doing 2 minute runs in between the walks. Next time, try to add in a few 3 minute runs.
If that seems too much, make them 2 min 15 second runs. The time after, make them 2 min 30 second runs, etc.
Just build it up that way and slowly but surely you will be doing more and more running on that trail.
I understand the weekend is the best moment to exercise as it is for many people and I can't judge your personal circumstances and availability during the week.
It would be great if you could add a third (and fourth) exercise day. It does not have to take a lot of time, but it would help in getting some more improvement. Walking a 9 mile trail takes a long time.
At the stage you are at you can get an effective workout in 10 - 30 minutes by not covering as much distance and doing a day like prescribed in my beginner running programs.
I would imagine that with the above run/walk approach and some dietary changes you will become fitter, faster and healthier.
Well done on making a start, keep it up, build it up and you will succeed.
Pages I would recommend reading:
Beginner Running Tips
Running for Weight Loss
Best of luck.
Kind regards,
Dominique
Join in and write your own page! It's easy to do. How? Simply click here to return to Running Training Helpline.