Running when Sixteen Stone

I am a 6'3 and 16 stone ex rugby player. I took up running after dislocating my neck when I was 34. I was running well until the past few weeks when all the runs seemed to become a struggle.

I was running 35 miles a week for about 3 months. My training intensity has changed a bit in that more hills and trail running have come into it but the legs just feel heavy on every run.

Any advice would be appreciated. I am trying to train for an endurance event over 3 days that will involve lots of running lifting my own body weight and pack work.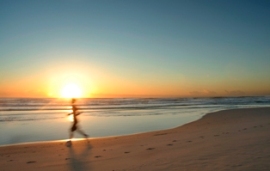 Answer by Dominique:
Hi there,
Thanks for your question. Although you have titled the question: "Running when Sixteen Stone", I am
not sure if your weight has got a lot to do with your current struggles
.
If your weight had been holding you back I would have expected more difficulties during your build-up towards 35 miles per week.
It is
not rare
for runners to have setbacks during training or periods where you seem to struggle a bit.
Especially when you
change the intensity
as you have done, you can expect your body to protest a little bit.
I recently had a period like that as well.
Just about 2-3 weeks or so where I did not seem to get a decent run out.
Seemed like I was running backwards at times, that's how slow I was going!
What I did was to keep on observing the
hard/easy principle
, i.e. follow a day of hard running with a day of easy running / rest.
And when I change intensity or go into hill work etc, I always try to
"ease into it"
. Start off with a short hill run, or intervals of only 1 minute length or so. Just build it up nicely and slowly.
For now, do not hesitate to
reduce the intensity a little
(i.e. less hill work, less mileage) on some of your runs and try to make sure that you still do your easy runs as well, i.e. those 30-45 min easy runs without hills/speed or anything.
Take one step back to take two steps forward!
Also, if there is any muscle soreness/stiffness it may be good to get a
sports massage
. When you increase intensity the risk of running injuries increases, so you will want to make sure you get some extra pampering as well.
Hope this helps.
Best of luck.
Kind regards,
Dominique