Running when Fat - Am I Too Fat to Run?
by Shelly
(Baltimore, Maryland)

I'm 42, 180lbs and out of shape. Can I start running, at my weight?


Answer by Dominique: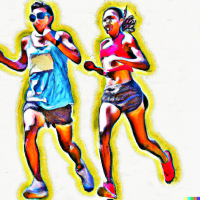 Hi there,
Thanks for your question about running when overweight.
In short, absolutely, you can start running! Running can be a great way to improve your fitness and overall health, regardless of your current weight. However, it's important to approach running with caution, especially if you're out of shape and carrying extra weight. When you are overweight, you carry excess baggage with you with every single step and as you run, every step causes a force at impact of about 2-3 x your bodyweight.
The more you weigh, the higher the impact. This can be damaging to your muscles, bones and joints.
So, that does not mean that you should not run. Please follow the following guidance:
1. Consult with your healthcare professional
2. Start with a run/walk program
3. Listen to your body
4. Incorporate strength training and cross training
Consult with Your Healthcare Professional
Before starting any new exercise program, especially if you have any pre-existing medical conditions, it's advisable to consult with your doctor or a healthcare professional. They can provide personalized advice and ensure that running is safe for you. They might advise you to start with a walking program in which you build up to 20-30 minutes of brisk walking.
Start with a Run/Walk Program
Alternatively, they'll tell you to do a run/walk program. I wholeheartedly agree with this approach. For example, alternate between running for a short distance or time (e.g., 1 minute) and walking for a longer distance or time (e.g., 2 minutes). As your fitness improves, gradually increase the running portions and decrease the walking portions. On this website you can find several
beginner running programs
. They are all based on a run/walk approach and have a very gentle build-up.
Now, you don't have to follow these programs to the letter. You can adjust them based on your own abilities. But do take note of the approach used, i.e.:
Combining running with walking
Slow and steady wins the race - gradual build up
Keep the running at a slow pace
Listen to Your Body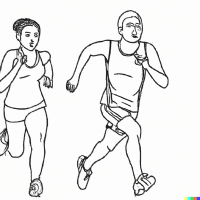 Pay attention to how your body feels during and after running. If you experience any pain or discomfort, it's important to slow down, take a break, or consult a healthcare professional if needed. Pushing through pain can lead to injuries. Some muscle pains and tiredness are nothing to be worried about. It's part of the process. But it shouldn't hurt to run. So when you think you have an injury, take a rest day, wait for the pain to subside or consult with your healthcare professional.
Incorporate Strength Training and Cross Training
In addition to running, include strength training exercises to improve overall muscle strength and stability. Cross-training activities such as cycling, swimming, or yoga can also complement your running routine and reduce the risk of overuse injuries. Check out
the cross-training for runners page
for further information and ideas.
Remember, it's important to prioritize your safety and health throughout the process. Take it slow, listen to your body, and enjoy the journey towards improved fitness.
Other pages that could be useful for you:
Hope this helps.
Best of luck.
Kind regards,
Dominique