Heart Rate Zones for More Experienced Runners
by Steve
(UK)
I'm 57, weight 67.5 kg and I've been running middle distance runs now for about ten years.

From 2003 to 2008 I was running about 27 miles a week (8, 7, 12 being my weekly runs) and ran a marathon in 3:58 and a number of half marathons.

I then reduced my running but was still averaging 20-22 miles per week (6, 7, 8) At time I was running the 8 mile in avg 62 mins.


Due to a knee injury Sept 2009 I didn't run again until the start of this year but have now been running consistently for four months, I try to run every two or three days for one hour and normally do about 7 miles per run.
My speed is pretty constant. Although I used to do fartlek training (up until 2009), I don't at the moment.
Although I've always used a GPS device for my runs, I never used a heart rate monitor (although I've got a Forerunner 305), but have now started to use it.
I'm really surprised that about 50% of the run is in zone 4 and the other 50% in zone 5.
My average heart beat is 162 and max is 176.
Some of the stuff you read on the internet talk about training in zone 2 or 3, but to do this I'm literally going to have to crawl or walk a fair distance.
From what I've told you do you think it is normal to be in zone 4 and zone 5 so much?
It may be that much of the stuff I've read is aimed at more inexperienced runners.
I'd be interested to see what you think about my current runs and their level of intensity. Is this healthy or not?
Steve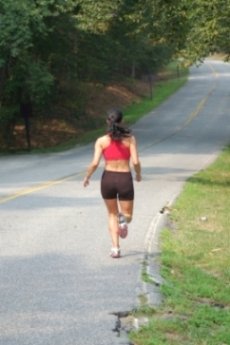 Answer by Dominique:
Hi Steve,
Thanks for your question and the information provided.
The general heart rate information you find on the net is as useful for experienced as it is for inexperienced runners. You can find my version of it here:
Heart Rate Monitor Training
Your heart rate looks to be quite high. It's not necessarily a bad sign. It may indicate that you are pushing yourself too hard though.
You have quite a few years of running experience under your belt, but you have not been running for a longer time due to your injury.
It does take time to get back into your previous shape and the older you get the longer this will take.
I have had the same experience. After a long injury I have started running again since November/December. In the beginning months my heart rate was off the charts. It's only very recently that heart rate has come down to more normal levels.
I did notice though that I overestimated my abilities. I ran too fast in the beginning. Not much too fast, but enough to make the heart rate jump.
For now I would mostly go by feel. Make sure you do those runs at an easy conversational pace. You may find that if you slow down a little bit your heart rate drops more than a little bit. Worked for me.
Hope this helps.
Cheers,
Dom
Join in and write your own page! It's easy to do. How? Simply click here to return to Heart Rate Monitor Training Questions.