Running Cramps During the Marathon
by Ray
When I run marathons I have this one problem.
I always cramp up badly by about mile 20.
How can I figure out what to do?
Don't know how to fix this.
Thanks in advance.


Answer by Dominique:


Hi Ray,
The marathon is an unforgiving distance. Running cramps, especially in the lower leg are quite common for marathon runners.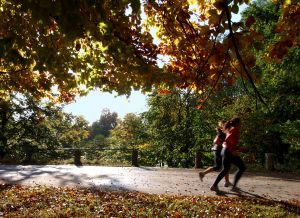 Without knowing much more about you, there are only a few guesses I can make about what you need to do:
Do more long runs (20 miles) in training; you can't really race a marathon until you can do 20-milers easily.
Drinking and eating; fluid and energy deficiency might be the causes of cramps. See this page on running with calf cramps.
You are starting off too fast and running out of fuel towards the end. You can read more about this on the marathon pacing page.
I am guessing that a lot of this problem comes down to insufficient training. However, for us "mere mortals" the 20-22 mile mark is also that point where it is simply enough and our body starts to heavily react to the stress we put on it.
And even Paul Tergat, former marathon world record holder, said in an interview something along the lines of
"...between 23 and 26.2 miles you enter no man's land where you will have to rely on your character and your will to maintain your speed..."
.
So, although not much of consolation, at least you are in good company if you are suffering from problems at the end of a marathon!
Hope this helps.
Cheers,
Dominique
Join in and write your own page! It's easy to do. How? Simply click here to return to Marathon Training Questions.