Running A Sub-40 10k
by Ashley
(Worthing, UK)
I have given myself the target of reducing my 10k time, ideally to sub 40 (and beyond!).

My question is how to achieve this? As someone who is quite new to longer distance running I have a strong bias for shorter distances and I think my times show this:

1k - 3:30
5K - 21:00
10K - 45.12
Half marathon - 1:51 (although this was in poor conditions)


At the moment my training has minimal structure, stay at one speed depending on how long the run is. Generally go out 3 time a week, total mileage is usually 20 miles.
Any thoughts would be welcome.
Thanks
Ashley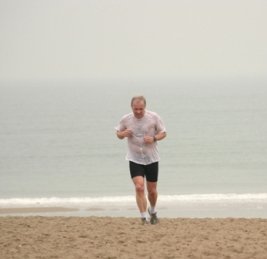 Answer by Dominique:
Hi Ashley,
Thanks for your running training question.
Sub 40 10k is a goal for quite a few runners.
It sounds like this is a goal that could be within your ability.
Let's see what we can do to make you faster.
First of all, thanks for submitting all that information.
That's really, really helpful.
I think there are some good elements in your training. Running about 3 times a week, which I would say is the minimum required to get improvements.
You run about 20 miles per week, so you can already cover some distance and you run at different speeds. Each running speed supports improvement of different body systems.
You say your inclined to running fast, and that may be part of the issue. Many runners do their slow runs too fast and their fast runs too slow. Because you may be running your slow runs too fast, it is harder to develop a good base.
And I think that's where our solution is.
Why?
Well, I have had a look at your times and put them into the
Race Conversion Calculator
.
When I enter your results in one race and then put in a "predicted" time in another race I get the following results:
Entered: 1k - 3:30, Predicted: 5k - 19:16 (you do 21:00)
Entered: 1k - 3:30, Predicted: 10k - 40:11 (you do 45:12)
Entered: 5k - 21:00, Predicted: 10k - 43:47 (you do 45:12)
Entered: 5k - 21:00, Predicted: half - 1:36:36 (you do 1:51, maybe 1:45 if conditions had been better?)
Entered: 10k - 45:12, Predicted: half - 1:39:44 (vs. 1:45 - 1:51 from you)
So, what is the story here?
You have got a good speed over the 1k, 3:30 is a good time and links to a 40:11 10k time, only 11 secs, well 12 secs away from where you want to be.
The speed is there. But the stamina is not. When you have to run over longer distances, you get tired and can't reach what the calculator says is within your capabilities.
And that is illustrated by every race distance.
Your shorter distance predicts a faster time over the longer distance than what you are getting.
That's good. We know the problem and it is pretty consistent.
The key here is your running base. You will have to become a lot more comfortable with running longer distances and running them at slower speed.
I would advise you to do the following things:
1) For a number of months only run easy and run long, no fast stuff, no intervals. See
my base running page
.
2) For variation you could do one
tempo run
per week, but I would not go faster than tempo running.
3) Build up the length of your long run. Also see
Increasing Mileage Safely
.
4) Consider adding one extra run to the weekly schedule.
5) Check out the booklet I give away with
my newsletter
. It is all about building a base and running at the right speed.
Try to train consistently. Once in a while over the next six months try a race to test yourself. Do a 5k or a 10k race or time trial and see how you go.
I would expect to see improvements in your running times. As you develop your running base your times should become more aligned to what the calculator says.
After your base is better, then, and only then, I would consider adding intervals back into the mix again.
I hope this helps.
Best of luck and let us know whether you make it to a sub-40 10k!
Cheers,
Dominique
Run Your Best 10k
How to Improve Your 10k in No Time

If you want to start running faster 10k races, you owe it to yourself to give "Run Your Best 10k" a chance. Backed by a 365-day "not happy, money back" guarantee, you don't have anything to lose.

This 100% risk-free offer provides you with the RIGHT running workouts at the RIGHT time to get you the results you need in as little as EIGHT WEEKS.

CLICK HERE FOR MORE INFORMATION
Join in and write your own page! It's easy to do. How? Simply click here to return to 10k Running Questions.