Can I Achieve 10k in 60 Minutes?
by Helen
(St Albans, England)
I am a 44 year old female who has been running for about 18 months. I did a 10k last year in 1:16:35. The course is a mixture of grass, trail and a kilometre long (shallow) hill at 3.5k. This year I did the same 10k in 1:12:08.


My training consists of about 10-15 miles a week, including an easy 3 miler, 6 x 400 intervals and a long run of 5 miles. I also do kettlebell exercises twice a week. I would love to achieve 10k in 60 minutes but right now to sustain that speed seems impossible. I would be grateful for any guidance you could give. Many thanks.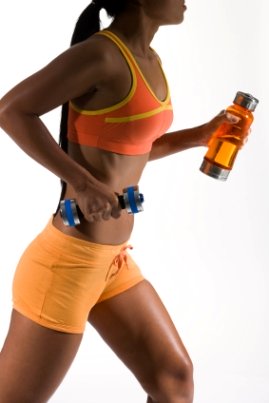 Answer by Dominique:
Hi there,
Thanks for your question about your goal to run 10k in 60 minutes.
I think there are a few things you can do to improve your chances of achieving your goal.
Your overall training looks pretty good.
Five days of training with two cross-training days is pretty solid.
The
kettlebell training
is a good way to cross-train, no comments on that one!
The 10-15 miles a week is a good start, but when you want to run for time you will probably want to look at increasing that.
It would be great if you could make the 3-miler a 5-miler and the 5-miler an 8-miler or so.
When you are training for a 10k goal it is very doable to cover that distance in at least one of your runs each week. That alone will give you a lot more endurance, but also a lot more confidence.
By the way, when that 8 miles becomes very comfortable, feel free to build it up a bit more!
Second,
intervals are a great workout
. However, I would only do them in the three months preceding your race. In addition, I would do the following:
Try to increase the distance covered in the intervals from about 1.5 miles / 2.4k to 3 miles / 5k.
Vary the lengths of the intervals. One week do 400m, the next week do 800m, the week after do 1,200m intervals and then the week after do 1,600m intervals. Whichever way you do it, bringing variety to your intervals is a good way to prevent staleness.
Instead of the intervals
I would much rather see you do tempo running
. Tempo running is a hard, but comfortable speed. They say it is the speed you can maintain for about an hour. Start off by doing shorter tempo intervals (e.g. 4 x 5 min tempo with 1-2 min recovery in between) and build the length of the intervals up over time until you get to about 2 x 20 min tempo or 3 x 15 min tempo or so.
Now, when your tempo speed is going to get to about 6 min / km pace, then you'll be in a great position to nail that 10k in 1 hr as your tempo pace will need to get to goal pace in order for you to achieve your goal.
So for now, build up the easy and the long run and replace your interval session with a tempo run session. Closer to race day (from 3 months out or so), replace the easy run with an interval session.
Of course, I am not going to guarantee you that you'll wipe those 12 minutes of your time, but you'll at least be using a very solid running program that should serve you well.
Further recommended reading:
Increasing Mileage Safely
Tempo Running
Interval Running
Also see my
Running Training
section for further running training ideas.
Hope this helps.
Best of luck.
Kind regards,
Dominique
Join in and write your own page! It's easy to do. How? Simply click here to return to 10k Running Questions.