Realistic Improvement for Next 10k?
I've recently completed my first 10k race, which I ran in just under 1h and 13 minutes.

I took some time off running after the race, but now want to get back into shape and train for another 10k.

I'd like to try and improve my time for the next race, so my question is - what's a realistic new time to aim for?



Answer by Dominique:
Hi there,
Thanks for your question.
First of all, congratulations on finishing your first 10k!
And great to see you are looking for more and want to improve your time.
It is pretty hard to answer this question without knowing how much you trained before, how much you will be training this time around, how long you have got until your next race, etc.
So, let's cover off on:
1. The ingredients to a faster 10k
2. Gauging progress - What time to aim for next time
The Ingredients to a Faster 10k
The 10k is a pretty tough distance as you would have experienced. It's a long time to try and push your body. To make your next 10k faster you can think about the following changes to your running program: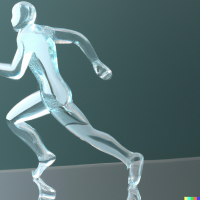 Increase Your Training Load
Consider how much training you did last time. Can you build up your mileage compared to your last training cycle? Can you build up the length of your long run? When trying to race a 10k, it is very beneficial to do a long run that goes beyond the 10k. Not saying you have to do that, I don't know where you are currently at and what your training has been like.
But in general: higher mileage will help you become a faster runner.
Check out the
base building page
for more info.
Alternatively, suppose last training cycle you ran three times per week. Maybe you can find space to do a fourth session? Maybe you can add some strength training, maybe cross-training? Check out the
strength training for runners
and
cross-training for runners
pages for more info.
Add in Some Quality Work
Once you have a good base, add in some quality through faster sessions. Given your current speed, for your 10k, the emphasis should be on
tempo running
rather than
intervals
. Does not mean you should not do intervals at all, but as your 10k currently takes more than an hour, I think running at tempo pace is going to be most beneficial. Start by doing cruise intervals, then build up from there.
Warning - Beware of Injury Risk
As you increase your mileage, you increase the risk of injury. And as you try to run faster, you increase the risk of injury. Do both at the same time and the risk exponentially increases.
Listen to your body and be sensible in how hard you push yourself
.
Gauging Progress - What Time to Aim for Next Time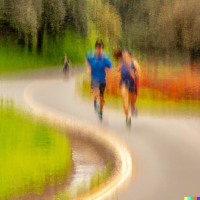 There are different ways that can help you establish how fast you will be, approximately, in your next 10k. Let's walk through the options:
Do a Time Trial
Two, three weeks before your race, do a time trial over 5k or so. Find a shorter race you can do. Then use your time in that "race" to work out how fast you'd be able to run your 10k race, with use of the
Race Conversion Calculator
.
Use Training Paces as an Estimator
As you are doing your running training, you will get a feel for what easy running pace is for you. And what tempo running pace is. And interval pace. You'll have a general idea. Once you know those, you can use the
Running Pace Calculator
and reverse-engineer your race prediction.
You see, the Running Pace Calculator establishes your running training paces, based on a recent race. But with a bit of trial and error you can reverse-engineer it.
E.g. suppose your easy pace is about 12:30 min / mile and your tempo pace is about 10:30 min / mile. When you type in a 10k time of 1 hr 5 min, it predicts an easy pace of 12:27 min / mile and a tempo pace of 10:28 min / mile. So, using your running training paces you can get a rough idea of what kind of race time you would be capable of. Just plug a few different times into the calculator until you get close to your training paces.
Do Goal Pace Training Sessions
Towards the end of your training cycle it really helps when you do some
goal pace sessions
. Goal pace sessions are workouts in which you try to run at a certain goal pace. This can help get you used to the speed you need to run on race day.
But it can also serve as a useful test.
For a 10k, you could do some kilometre repeats at goal pace. Now, when you have trouble hitting the right pace in the first few repeats, you know you are aiming too high. Hitting the right speed in the first few repeats should be straightforward. At the same time, if those repeats are super easy, then you might have scope to run a faster 10k.
I hope that provides you some guidance on how to train for a faster 10k and how to work out how fast you should try to race your next 10k. I wish you all the best with your preparations. I am sure that with some dedicated training you have scope to improve that 10k time further!
All the best,
Dominique
Join in and write your own page! It's easy to do. How? Simply click here to return to 10k Running Questions.