Improving My Time for a 10k Run
by Lisa F
(Australia)
I have just finished a marathon and I have a fun-run of 10k in 6 weeks time.
I would like to do it at 50 minutes for 10k but having just finished the marathon I am scared of pushing myself and getting injured.

What sort of training plan would you recommend?


Answer by Dominique:
Hi there,
Thanks for your question.
It sounds like that 10k race is important to you, ideally your next important race would be a bit further away.
You have not mentioned your current 10k time or your marathon finishing time so I am not sure if this 10k in 50 minutes is doable for you or not.
One thing you have as an advantage is that you have finished this marathon, so obviously you must have the base to be able to cover the distance.
A marathon training base is great to have and I see quite a few people thrashing their 10k and half marathon personal records in the months after they have done the marathon!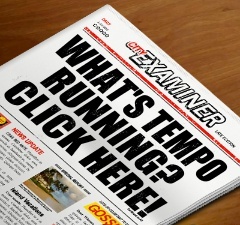 In the first 3 weeks after the marathon I would recommend hardly any running. A marathon is by definition not healthy. That kind of distance can do quite a bit of damage.
Your body needs to repair itself. Take a short break, or do some cross-training instead. Give those running muscles a break for a while.
After that, in the lead-up to your 10k race, do some easy running, but also make sure to do your quality workouts, i.e. tempos and intervals.
In the mean time,
listen to your body
. The trick is to do these quality workouts, but to keep your mileage in those weeks quite low and to make sure you get proper rest in between.
You do run the risk of injuries in the time after the marathon, but if you take enough rest in between good workouts it can work out for you and you could have a really good post-marathon season!
Hope this helps.
Best of luck,
Dominique
Run Your Best 10k
How to Improve Your 10k in No Time

If you want to start running faster 10k races, you owe it to yourself to give "Run Your Best 10k" a chance. Backed by a 365-day "not happy, money back" guarantee, you don't have anything to lose.

This 100% risk-free offer provides you with the RIGHT running workouts at the RIGHT time to get you the results you need in as little as EIGHT WEEKS.

CLICK HERE FOR MORE INFORMATION
Join in and write your own page! It's easy to do. How? Simply click here to return to 10k Running Questions.