Running Pace and Different Distances
by John
(Williamstown, MA USA)
My daughter is starting to run cross country at her school. She is new to running and I would like to find every opportunity to encourage her and show improvement. The meets she runs in are different lengths (3K, 4K, 5K).


I'd like to be able to show her that her pace is improving each week -- and am wondering if there is a way to adjust pace over distances.
That is, I'd like to normalize all of her times from different-length races so we can compare them.
I understand this may not be how "real" runners think about it, but any feedback would be greatly appreciated. Thanks in advance.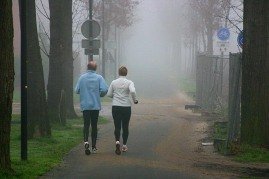 Answer by Dominique:
Hi there,
Thanks for your question about your daughter's cross country running.
There is a tool that will help you do exactly what you want, it is a
race conversion calculator
.
It allows you to work out what the equivalent time is on a different distance given a time in a distance you ran, e.g. you can work out that a 1:25 half marathon is roughly equivalent to a sub-3 hr marathon.
It is how "real runners" think, well, at least, I do use it.
When I have got a 'big race' coming up I usually run a tune-up race a few weeks before, so I know what type of shape I am in and how fast I should be expecting to go on the big day.
Two warnings:
Your daughter will not be faster each and every week. It is more important to find a positive in every race and to make sure she has fun doing it. She will not run a personal best every week.
The race conversion calculator assumes that a person is well trained for both the events, i.e. the shorter and the longer distance. For kids there can be quite a big difference between a 3k and a 5k. So, be careful to assume that a 3k time one week will lead to the expected 5k time the next week. There is likely to be some difference.
Hope this helps.
Kind regards,
Dominique
Join in and write your own page! It's easy to do. How? Simply click here to return to Running Training Helpline.