Running in the Morning and Bike in the Afternoon
by Rob
(Toronto)
I am currently trying to work-up to running a 5k but also lose weight. I run 3 times a week and bike 3 times a week. I want to increase that so I do cardio 2 times a day. Is this too much if I run in the morning and then do the bike in the afternoon?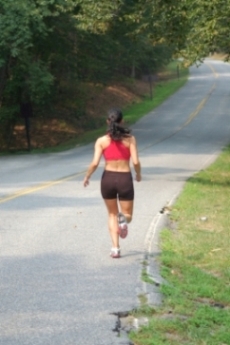 Answer by Dominique:


Hi there,
Thank you for your question about combining running and bike riding.

In principle there is nothing stopping you from running in the morning and biking in the afternoon.

I started swimming recently and have done swims in the morning and runs in the afternoon.

You may feel that your legs are a bit rubbery or like jelly in the 2nd workout of the day!

There shouldn't be detrimental effects of the biking on your running and vice versa.

If you can combine the two you would reap some fitness and strength benefits from both.

However, what you do need to keep in mind are a few basics:


Increase your mileage safely - When increasing the amount of exercise you do, increase it slowly, but steadily and listen to your body.
The hard-easy principle - Make sure that you allow your body time to recover. Alternate between hard and easy days. Now hard and easy are relative measures. Easy may mean complete rest, but it could also mean an easy run, bike ride or some cross-training.
Losing weight is as much about exercise as it is about diet - Increasing the running and biking you do will help you burn more calories. However if you consume more as well due to the increased work load you are not likely to see any fitness gains. Eat healthily and modestly.

Calorie count for a while if you feel like it via a website / app like myfitnesspal.com. It will help you keep on track and you will become more conscious about what you eat and drink in a day. Also see the running for weight loss page.

Best of luck with the preparations for your 5k race and your weight loss journey.

Kind regards,
Dominique



Join in and write your own page! It's easy to do. How? Simply click here to return to Running Training Helpline.