Improving 5k Running Time
by Ramesh
(Kochi)
I run on the track about 3 times a week. I do distances of 2k (timing 10m25s), 4k (timing 23min)and 5k (timing 29min) on these three days. Besides this I do heavy weight training twice a week. I am a heavy set man (178cm - 92kg). Can you suggest some methods to cut down my 5k timing.

Answer by Dom:

Hi there,
Thanks for your question about improving your 5k running time. And thanks for sharing those running times.

OK, let's walk through this in the following order:


1. Analysis of your current performances
2. Build Your Base - Slow Down to Speed Up
3. Layer in Speed
4. Weight Loss and Improving Your Running Times

Analysis of your current performances
Now, the first thing I did was to plug in your times in my
race conversion calculator
(link at bottom of this answer).
When I plug in your 2k time of 10 min 25 seconds, your predicted 5k time is: 27:30.
When I plug in your 4k time of 23 minutes, your predicted 5k time is 29:08.
So, what does this tell me?
Well, a few things:
a. It is well within your ability to improve your 5k running time....
b. But, you are running out of steam when it comes to longer distances...
So, let's fix that problem by building your base.
Build Your Base - Slow Down to Speed Up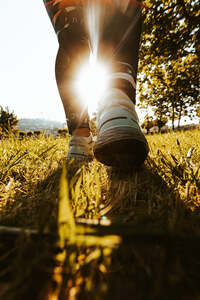 It sounds like you are pushing yourself pretty hard on those three runs. What I would like to ask you to do is to
run slower, but run for longer
.
I am convinced, that when you slow down your running to an easy, conversational pace, but run longer distances, that you will start seeing improvement in your 5k times.
You can already run 29 minutes with really pushing yourself. Let's slow down a bit and run for 30-45 minutes, three times per week.
You can build up further to running 45-60 minutes per run. Just build it up slowly, add 3-5 minutes of running to a couple of your runs every week.
Why do this?
Well, you want to
build your base
. You want to strengthen that cardiovascular system in your body, such that with every heart beat you pump more oxygen to your muscles.
Even without the consideration of what is going on inside your body... Imagine you are able to run 7k, 8k, 10k even in your training... How much easier will it be to maintain your speed you are currently running in a 2k time trial when you have got that solid foundation? You might be able to hold it for the full 5k, improving your 5k running time from 29 to ~26 minutes! That would be a more than 10% improvement already!
Layer in Speed
Now after that base of yours is better developed through all that easy running, then it is time to add in some speedier running. I have got plenty of pages on this site devoted to that, so I will just give you a few links to find out a bit more:
Fartlek Workouts - Speedplay Explained
Tempo Running
Interval Running
Whenever you start adding in speedwork, be careful as the injury risk goes up. The good thing is that you are lifting heavy which is a good help in staying strong and a great running injury prevention technique, but still, just listen to your body and if you are hurting yourself, back off from the speedwork.
Weight Loss and Improving Your Running Times
As you said yourself, you are on the heavier side. I think you'll find that running more and longer distances will see you lose some weight, that's generally what happens, even if you are not focused on weight loss.
The reason I am bringing it into the mix is that generally you can expect to get about 1-2 seconds per mile faster per US pound. So, if you were to drop 5kg, that's about 11 US pounds, you could expect to be 10 to 20 seconds faster per mile.
A 5k race is 3.1 miles, so that would improve your 5k running time by 30 to 60 seconds right there!
Now clearly I don't know your circumstances and whether that is a possibility or not. Even without the weight loss, you have excellent, excellent prospects to be running a faster 5k, but if you were able to drop a bit of weight, you would see that improvement in your running accelerate!
So, hope that helps: run slower and longer and then add a bit of speed work as the cherry on top and good things will happen!
Kind regards,
Dom
Related Pages:
Race Conversion Calculator
Base Building Page
Tempo Running
Join in and write your own page! It's easy to do. How? Simply click here to return to 5k Running Questions.