Should I Run Every Day?
by Dominic
(Hull (UK))
I am 47. After years of weight training, which knackered my joints, I stopped exercising altogether for nearly two years. I am now running regularly, and my knees seem to be coping, but I am kinda nervous about the next big step: running 5/6 days a week. Will I cope? Will I get injured? What can I do to prevent/ameliorate any problems?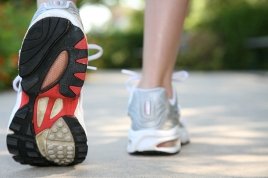 Answer by Dominique:
Hi there,
Thank you for your question about running five or six days a week.
My main question is: do you have to run five or six days a week?
More mileage and running more is inevitably linked to a higher risk of running injuries.
I am a big fan of
cross-training
, e.g. swimming, bike riding, weights, pilates, etc. Whatever you like doing best.
The
benefit of doing cross-training
is that you'll give your legs a rest from pounding the pavement, but still work on your fitness levels and health. In addition, better overall body strength (not just the "running muscles") will injury-proof you better.
Bike riding for example builds up stronger upper leg muscles which helps provide a lot more support to your knees.
Swimming and pilates help strengthen your core and upper body, again, helping you to prevent injury.
It's a big misconception that in order to run faster you need to run more.
Of course, you do need some mileage into your legs. But a lot can be accomplished by doing quality workouts at the right time and at the right intensity, and then combining this with cross-training.
With quality workouts I mean your long runs, tempo runs and intervals, i.e.
the "hard" workouts
. There is a place for just easy running, but I'd much prefer a week of doing a long run, tempo run and interval workout combined with some bike riding, swimming or pilates over a week consisting of five/six days of running.
I have had to learn this the hard way, i.e. get some injuries, having to take time off etc because I was just pushing it way too hard. Now that I have backed down on higher mileage, but put in more quality workouts and cross-training my results are actually better.
Some related information you may wish to look at:
Cross Training for Runners
Tempo Running
Interval Running
Hope this helps.
Cheers,
Dominique
Join in and write your own page! It's easy to do. How? Simply click here to return to Running Training Helpline.