I've Been Running Harder Than Ever and Killing Workouts
by Ace Snap
(VA)
I've always been a natural runner and I've never taking running seriously until now. I'm a senior in high school and I can kill any workout, but when it comes to races my times are progressively getting slower! I'm not sure why though because I have stopped many of my old habits just to be a better runner, I run harder and longer, and I'm actually trying now.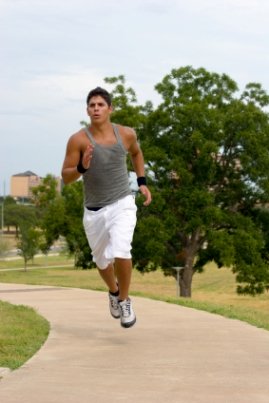 Answer by Anissa:
Thank you for contacting Best Running Tips regarding your race times becoming slower.
Since I don't have a lot of specifics about your running workouts & background, I will give you my best guess as to why this might be happening.
It is quite possible that you are
overtraining & not giving your body enough time to recover
.
Pushing yourself hard everyday will only
set you up for burnout and/or a running injury.
I cannot stress enough the importance of rest days!
Your body needs rest days to repair and rebuild muscle that has been damaged by hard training sessions/workouts. Make sure you are taking at least one day off after a hard workout, even two if it was a particularly difficult workout or if you're still having muscle soreness after just one day of rest.
Note that a rest day doesn't have to mean taking a full day off.
Good alternatives are a light recovery run or cross-training.
Another thing to consider is incorporating
tempo runs
into your weekly running routine. Tempo runs help your body increase its lactic acid threshold which will help you run faster. Running this pace helps your body become more efficient at removing the lactic acid from your muscles and over time, it will be able to do this much faster.
Interval running
is another great way to help improve speed. Interval pace is faster than a tempo pace. It involves bursts of high-intensity work followed by periods of recovery.
For example: Run at a "close to all out" pace (yes, this will be difficult) for 1 minute, followed by 1 minute of walking (recovery). Repeat this cycle 6-8 times or as your current level of fitness permits. Of course, this workout is considered to be an intense workout.
So, you can't do intervals all day, every day!
Interval running should be followed by at least one, usually two easy days.
Lastly, always remember to warm up & cool down during your workouts. Warming up helps your body prepare for the workout & cooling down helps with recovery time and can help reduce muscle injury, stiffness & soreness. Warm up & cool downs are basically just doing your runs at a slower pace/intensity. It's also a good idea to include some
stretching
in your cool downs as well.
Good luck to you!
Anissa
Join in and write your own page! It's easy to do. How? Simply click here to return to Running Training Helpline.