What is Next? Speed or Distance?
by John
(Staten Island)
I am a 38 yr old male. Former athlete, now a little over weight. I have gotten up to 1 1/2 miles in 15 minutes. Wondering if I should increase speed or distance as my next step? My ultimate goal is to lose weight. I like to push myself and am still competing. Thanks for your help.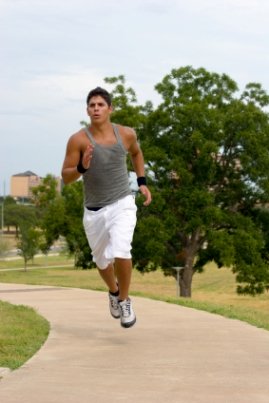 Answer by Dominique:
Hi there,
Thanks for your question about your running.
Yes, what's next, speed or distance, it's a question that comes up fairly regularly.
There are different schools of thought.
Ask the
CrossFit
experts, then many would probably say that it is better to focus on
high intensity interval training
.
So, speed before distance.
And yes, short term this can produce results.
However, for long term results high intensity training has really been untested and
I don't think it will stand the test of time
.
Good running training is based on two rules only:
You do some slow running and some fast running.
You know when to do the slow running and when to do the fast running.
So, high intensity work alone is not going to get you there. And in fact, most running should be done at a pace at or below your lactic acid threshold.
I think that long-term you can't escape conventional running training knowledge that
distance has to go before speed
.
The analogy I often use is of
building a house
. With a house, you need to have a strong foundation first and foremost.
Without the foundation, the house can look good, but it won't last long.
Not too long and the first cracks will appear in the walls and before you know it, it will come tumbling down.
When you are serious about long distance running (your house), then you need to build up your stamina first of all (your foundation).
You do this by doing lots of slow/easy running
. Imagine if you'd be able to build up your longest run to 3, 4 even 5 or 6 miles. Now, when you can run that far, imagine how much easier that 1.5 mile distance suddenly is!
The irony is that all that slow running over longer distances will make you mighty fast over shorter distances.
Once you have got a good base some speedwork will help make you faster. However, most runners do too much speedwork and spend too little time developing their base.
Check out the following articles for more info:
Base Running
- base running workouts you can do.
Tempo Running
- About running at lactic acid threshold speed.
Fartlek
- Introduction to Speed Workouts.
Running for Weight Loss
- because you are running for weight loss.
Hope this helps.
Cheers,
Dominique
Join in and write your own page! It's easy to do. How? Simply click here to return to Running Training Helpline.