Need to Run 1.6km in 7mins
by Waqar
(Haripur, Khyber Pakhtunkhwa, Pakistan)
My name is Waqar and I live in Pakistan. Sir, I have applied for the Motorway Police. Their requirement is to cover 1.6km in 7 mins. So, dear Sir, I have never run before in my whole life and I want to achieve this goal.

Sir, from yesterday I have started running early in the morning and I have covered about half km in 2 or 3 mins after that I get so tired I can't take one step more.

Sir I am physically 100% fit and my age is 23 years. Sir please help me and guide me with your experience. I shall be very thankful to you. Thanks.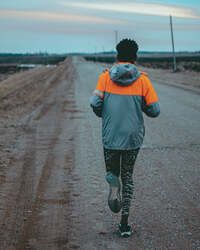 Answer by Dominique:
Hi Wagar,
Thank you very much for your running training question. It's wonderful to be able to help people from all over the world, including Pakistan!
In the beginning, running is a bit hard. Now, I don't know how much time you have available to be able to achieve your goal of running 1.6k in 7 minutes. So that's 4:22 min / km (7 minutes per mile). It's pretty fast, but not crazy.
And you say, you are young and fit, so you should absolutely be able to do this.
The key ingredients to be able to do this are:
1) build a base of slow, easy running
2) add in some faster running through intervals
3) do some time trials to test yourself and get used to the required speed.
1. Build a Base of Slow, Easy Running
Assuming you have a bit of time, I would recommend doing a run/walk program at first.
Make sure the running is at a slow pace, i.e. don't run incredibly fast, just do an easy jog, that's hard enough in the beginning.
You could have a look at my
Beginner Running Programs
.
Maybe you do not want to use those particular programs. But see how they combine running and walking. See how they build up the running slowly, week by week. That's the kind of training you need to do at first.
When you need to run 1.6km in 7 mins, then let's first work on being able to run 7 minutes without stopping! Then work on being able to run a slow 15-20 minutes.
2. Add in Some Faster Running
When you have built up to doing 15-20 min of slow running, then you could start working on doing some faster running as well, e.g. do some sessions that are like this: 10 x 30 sec hard / 30 sec slow; then maybe 5 x 1 min fast, 1 min slow. Build up the time running fast.
3. Do Some Time Trials
You can also do time trials to test yourself. Let's say you do that once every two weeks. Your first time trial might be a 400m all out. That needs to be in 1 min 45 seconds or faster.
Next time trial, make it 800m. Needs to be in 3:30 min or faster.
Next time do 1,200m. Needs to be in 5:15 min or faster. And then after that do 1.6km, which you want to be able to do in 7 minutes.
The first few times you may not make it to your goal time, but I think that a young guy like you, provided you do the work, will be able to achieve that goal.
Now, clearly, all of this assumes you have time to train to build up the speed and fitness to get to your goal of 1.6km in 7 minutes. Need to be able to get there very quickly? Then I would recommend considering my
running coaching
service for specialised help.
Best of luck.
Kind regards,
Dom
Also check out these pages for extra info:
Building a Base
Interval Running
Goal Pace
Join in and write your own page! It's easy to do. How? Simply click here to return to Running Training Helpline.