Finding It Impossible to Do a Sub-6 Min 1500 Metres
by Jay
(Ireland)
I am a 42yr old male, height 5' 9" weight 154lbs For a couple of years I've been walking 2 miles in 22 mins or so. But at the beginning of August I began to run 1500m every day in my local park. Some days twice, once in the morning and again in the evening.

My very first time was 07:49mins and my current PB is 06:08mins. If i was to take an average of all my times (which I record) it would be 06:30mins.

My question is: I can't seem to get below 06:00mins. What should I be eating and how long before I run to give myself more enery & speed. Thanks.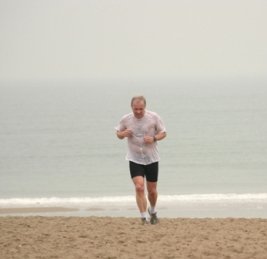 Answer by Dominique:
Hi Jay,

Thanks for your question about your 1,500m time.

It looks like you have made some good progress over a short period of time.

And you may find that by taking this exact going forward you'll still be able to improve a little bit over the next few weeks and months.

But there is a better way.

Rather than going all-out and doing 1,500m every time, I would advocate a different approach:

Start building your base. Run slower, but further. The further, the better.

If you really want to keep on doing this time trial on a regular basis, do it once every fortnight or once every month or so.

Give yourself a break from the constant pressure of that particular distance. Instead of the time trial you could first work on doing intervals, e.g. 3 x 500m in 1:55-2:00 min with short rests in between.

Do your intervals only once a week, not once a day or even twice a day! Way too much! You may find that even just cutting down on the daily intensity will provide you with better results.

So, cut back on the time trials, start the base running and try out interval running. And also make sure you check out the articles in the running training section of this site.

There are many other ways to train than just completely all-out and, over time that variety will provide you with much better results!

Best of luck.
Kind regards,
Dominique