Finding It Impossible to Do a Sub-6 Min 1500 Metres
by Jay
(Ireland)

I am a 42yr old male, height 5' 9" weight 154lbs For a couple of years I've been walking 2 miles in 22 mins or so. But about six weeks ago I began to run 1500m every day in my local park. Some days twice, once in the morning and again in the evening.

My very first time was 07:49mins and my current PB is 06:08mins. If i was to take an average of all my times (which I record) it would be 06:30mins.

My question is: I can't seem to get below 06:00mins. What should I be eating and how long before I run to give myself more enery and speed. Thanks.

Answer by Dominique: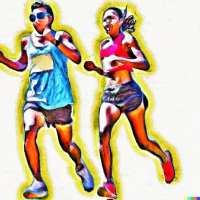 Hi Jay,
Thanks for your question about your 1,500m time.
It looks like you have made some good progress over a short period of time.
And you may find that by taking this exact method going forward you'll still be able to improve a little bit over the next few weeks and months.
But there is a better way. So, rather than talking about food to give you that extra special energy to get faster, I'd like to provide the following suggestions:
1. Do not race every day, but start easy running
2. Still do some faster running
Do Not Race Every Day
Rather than going all-out and doing 1,500m every time, I would advocate a different approach:
run slower, but further.
The idea behind this is that you need to
build an endurance base
.
The 1,500m is a tough, tough race. One of the toughest ones out there. Why? Because you need to build a good combination of endurance and speed. As you would have no doubt have experienced, six minutes is a very, very long time to be running at close to top speed.
It's too long to only rely on training your speed. Which is basically you have been training so far.
So, let's now work on your endurance. You do that by running slower. Start by running at a conversational pace, the pace at which yinou are able to have a conversation while running. Then over time, build up the time spent running. From maybe 10 minutes at first, to 15, 20 and so on. It would be great if you could run 30-45 minutes per week 3-4 x per week.
Check out a bit more about this idea on
the base building page
.
Still Do Some Faster Running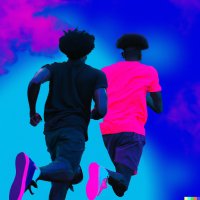 I am not saying you cannot race the 1,500m anymore, but I would really recommend you give yourself a break from the constant pressure of that particular distance and instead practice some
interval running
.
When running intervals you can be flexible and play around with the length of the intervals, the number of intervals and the pace. One idea is to do some shorter workouts at a pace that's just a bit faster than your current Personal Best (PB), and then do some longer interval workouts at a pace that's just a bit slower than your current PB. This will help make you faster over time.
E.g. Your current 1,500m pace is 4:05 min /km. You could do 5 x 300m at 4 min/km pace with a 1 minute rest in between as a shorter workout. And for example 8 x 400m at 4:20 min/km pace with 90 seconds rest in between.
Do your intervals only once a week, not once a day or even twice a day! Way too much! You may find that even just cutting down on the daily intensity will provide you with better results.
Then once every 2-3 weeks, do a 1,500m time trial. I bet you that after building a strong base and giving your body a break from the constant racing, you will start seeing improved results. There are many other ways to train than just going completely all-out all the time. And, you will find, over time that variety and endurance will provide you with much better results!
Best of luck.
Kind regards,
Dominique