Young Runner - Possibilities?
by Joanne G
(Peterlee, England)
I have an 8 year old son who loves running, he can run a mile in 5 min 30 seconds. Is this considered a good time and would it be worth him looking at local running clubs?

Also he has recently started to suffer from a stitch just after starting his run, he can sometimes run through this but do you have any ideas as to how he can stop this?

Thank you.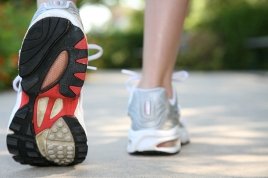 Answer by Dominique:

Hi there,
Thanks for your question about your running son.

A 5 min 30 second mile is fast for an 8-year-old.

If he enjoys running, then by all means, get him into a local running club or into some other sport in which he can release his energy.

Getting your kids to do some kind of sport is always good, in my opinion.

As long as they want to themselves, that is.

A stitch while running can be caused by various things, e.g. too much food or drink too close to the moment he starts exercising or irregular, shallow breathing.

It can even be caused by his breathing / running pattern.

The way this works is as follows:

* The diaphragm is connected to the spleen and the liver.

* As you breathe in and out the diaphragm gets pushed down and pulled up respectively.

* As you run your internal organs, like spleen and liver do not sit still, but pull the diaphragm as well as your feet land.

Now as you run and breathe your diaphragm gets pulled all kinds of ways and this can cause stitches.

It is not so easy to deal with this as it requires a very conscious coordination between breathing and running. Probably the best thing for him to do is to try and make sure he is feeling nice and relaxed before he starts exercising.

You could help him relax by teaching him some deep breathing exercises. And make sure he does a nice and gentle warm-up, so his body gets warmed up, his heart rate goes up a bit etc.

Hope this helps.
Kind regards,
Dominique



Join in and write your own page! It's easy to do. How? Simply click here to return to Running Training Helpline.